DESCRIPTION
Discover a bit more of Taino Heritage in Puerto Rico. In the town of Morovis, you will have the opportunity to explore a system of more than 60 caves full of limestone karst formations, hieroglyphs and legends. Also, as part of this experience you will have the chance to attend a workshop of Taino pottery where you will learn how Tainos created these art pieces.
*All tours are subject to tour operator availability and minimum number of participants.
What's included?
Transportation. Professional tour guide. Water. Helmet. Gloves. Headlamp. Lunch.
Recommendations:
We prefer that our participants wear long pants, shirts with long sleeves and closed shoes (such as boots or tennis shoes). We also recommend using hats or caps, glasses and bring items for personal use, such as insect repellent and sunscreen. You are advised to have breakfast before arriving at the activity.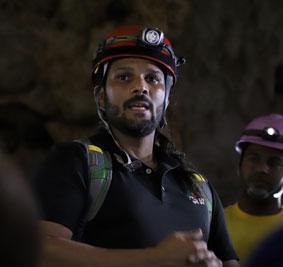 Roberto Moreno
Globally recognized photographer in 2010 for Puerto Rico de Aventura, this Puerto Rican native will share with you his extensive knowledge of the island on a very exciting adventure. From zip lines, to caves, to bio luminescent bays; be prepared for unprecedented access to some of PR's most exclusive, visually stunning sites.